In a world where the boundaries between creative disciplines are blurring and convergent ideas are making way for a better tomorrow, there arises the need to spark curiosity, recognise each practice or project challenging the status quo, and tell every story that matters - a task that STIR vowed to undertake in its manifesto.
In a short span of less than three years since its inception, today, STIR is happy to have stimulated creative minds, created critical discourse, disseminated knowledge and led curated initiatives that probe, conducted interviews that inspire, and spearheaded dialogues and debates that challenge subjects from the world of architecture, design, new-media art and beyond.
Over the years, STIR has manifested through various media to facilitate the exchange of ideas, enable collaborations, showcase trends and technology, and create a collective of enthusiasts from different streams of the creative realm. Through original series and digital as well as on-site undertakings spanning text, multimedia and transmedia formats supported by a global network of 75+ contributors including experts and specialists, we are delighted to have gained the support and love of the global creative community of artists, architects, designers, academics and creative aficionados. The STIR team is spread over London, Milan, Madrid, New York, Mumbai, New Delhi and other major cities.
With close to 4000 stories sitting across our two platforms, STIRworld and STIRpad, we host a large readership of 2.55 million from across the globe. We are glad you are part of this big family!
STIR takes pride in having conducted exclusive interviews with the likes of Sebastian Behmann and Paola Antonelli; Het Nieuwe Instituut's general and artistic director, Aric Chen; Oscar-nominated production designer, Patrice Vermette; Italian entrepreneur, Paola Lenti; Alessi's president Alberto Alessi, and Bjarke Ingels Group's CEO and partner, Sheela Maini Søgaard, amongst others.
Some original content series that have been envisioned and executed by STIR include Unscripted, a series of quick-witted chats with 30 leading designers; Cross Border Conversations, a set of candid conversations between creative professionals from different nationalities, ethnicities and professional disciplines; and Venice Architecture Biennale, a series of articles and videos featuring conversations, projects and interviews that chronicled the best of digital and physical exhibitions at the Biennale Architettura 2021.
The community and marketing platform, STIRpad.com, launched in July 2021, connects the global creative community and helps them narrate their stories as they would like to. STIRpad today hosts some leading Italian brands such as Poltrona Frau, Armani Casa, Visionnaire, Inkiostro Bianco, Laurameroni Design Collection, eminent studios such as Marcel Wanders, Piero Lissoni, Jean-Marie Massaud, Karim Rashid, Luca Nichetto, Ron Arad, Richard Hutten, Ludovica+Roberto Palomba and Italian and international galleries including Nilufar, Cardi Gallery, ACP - Palazzo Franchetti, Fondazione Furla, GAMeC, Kreo FUMI et al.
STIR will soon announce several new initiatives in the world of art, architecture and design to continue this virtual exposition of knowledge dissemination and invigorating information exchange. Let's come together to the mecca of creative thought and expression and challenge each other to think and assess our present to create new, equitable futures.
See you at Salone!
We are excited to announce our very own STIR press booth at Salone del Mobile - Hall 5/7 S.14, Fiera Milano RHO. Click here to read all that's STIRring at Milan Design Week on the best of exhibits, moods, studios, events and conversations to look forward to.
We also have special packages available for anyone who is interested in promoting their brand, studio or gallery. You can view these packages below and reach out to us at advertise@stirworld.com.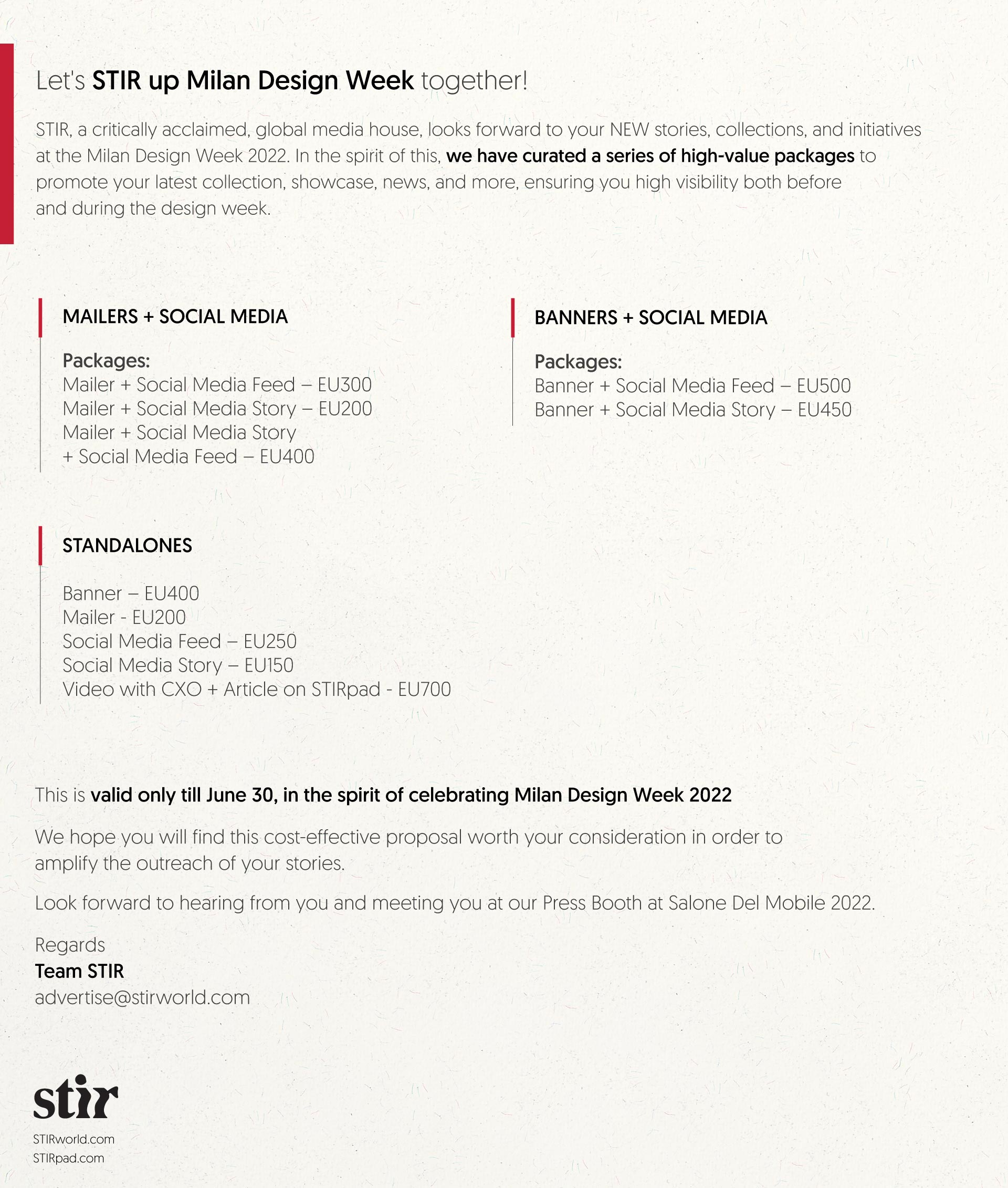 STIR takes you on a Milanese sojourn! Experience Salone del Mobile and all the design districts - 5vie, Brera, Fuorisalone, Isola, Zona Tortona, and Durini - with us. STIR's coverage of Milan Design Week 2022, Meanwhile in Milan showcases the best exhibits, moods, studios, events, and folks to look out for. We are also excited to announce our very own STIR press booth at Salone del Mobile - Hall 5/7 S.14, Fiera Milano RHO.